I think I've gone a bit overboard with all of the swaps and quilt-a-longs and bees I've been joining. In an effort to get into a bee for 2012, I sent out a ton of feelers, having been too late to get into the one that I really wanted to join. Unfortunately, I might have over committed myself. In fact, I'm having some trouble remembering what it is I've joined. This post is going to be my attempt to get organized.
QAL #1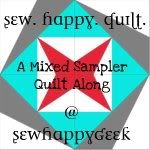 First up, the
Sew. Happy. Quilt. QAL
that Jenna is running over on Sew Happy Geek. This QAL began December 21 and runs until March 18.
Fabric requirements are 11 to 12 fat quarters for the blocks and about 2 yards for the sashing and border. I'm going to use the Riley Blake Designs Solids FQ bundle below for this QAL. I'll use the reds, oranges, pinks and greens for the blocks, plus white.
QAL #2
Next up is the
Farmer's Wife Sampler Quilt-a-long
that every blogger on the internet is participating in. Karyn from Make Something is starting up a QAL in January. Since The Workroom is where I purchase my fabrics here in Toronto, AND she's encouraging people to share their progress during Quilt Sundays at The Workroom, I've decided to join up. I'm using this as an opportunity to learn and practise paper piecing, since there are foundation templates for all 144 blocks online.
I haven't decided on a colour scheme for this quilt. I'm wondering if I should just go completely scrappy and use whatever is handy. Alternatively, I could go monochrome. I do love green and perhaps some cohesion is a good idea when making 144 quilt blocks? What do you think?
Bee #1
Hayley of Mrs. Pickles posted on Flickr that she wanted to start a bee for beginners and I joined up. So far there are only six members but she's holding out for twelve. Hayley will be giving more details about the bee after the holidays and I can't wait to see what we're going to be doing.
Bee #2
I think I mentioned previously that I'd joined an add-a-border bee on flickr. I've since decided to withdraw from this group. I perused the groups photo stream and I don't think we share the same tastes. It just isn't a good fit for me.
So there it is. Three groups. I really thought there were more! This is totally manageable. Sweet! 2012 is going to be all kinds of quilty goodness!